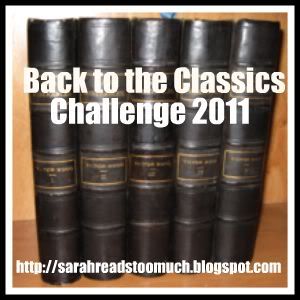 We'll, it's been 5 long days since we last signed up for a 2011 reading challenge. Today we're on a mission!
It is with unbridled enthusiasm we can proudly reveal "Back to the Classics Challenge 2011" as our 3rd reading experiment for next year. Thanks to Sarah Reads Too Much for putting together this challenge! All the fantastic details can be found at
her website by
clicking

here!
In order to complete the challenge, you must choose a novel that fits into each of the 8 categories.

We've decided to go out on a limb and choose our titles in advanced.
The goals to complete:
1.
A Banned Book
– Ulysses by James Joyce
2.
A Book with a Wartime Setting (can be any war)
– Les Miserables by Victor Hugo
3.
A Pulitzer Prize (Fiction) Winner or Runner Up –
March by Geraldine Brooks
4.
A Children's/Young Adult Classic
– Twenty Thousand Leagues Under the Sea by Jules Verne
5.
19th Century Classic –
Dr. Jekyll and Mr. Hyde by Robert Louis Stevenson
6.
20th Century Classic –
Shogun by James Clavell
7.
A Book you think should be considered a 21st Century Classic –
The Girl with the Dragon Tattoo by Stieg Larsson
8.
Re-Read a book from your High School/College Classes –
The Count of Monte Cristo by Alexandre Dumas
Be sure to visit frequently (and follow) so that you can stay updated on our progress!